TRIATHLON'S TRACK RECORD
So, where has this guy been?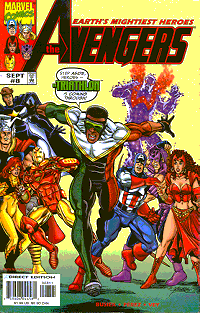 AVENGERS #8
Triathlon's butt-kickin' first appearance! He shows up at Aeroverde International Airport tracking the high-tech goons of super villain Moses Magnum!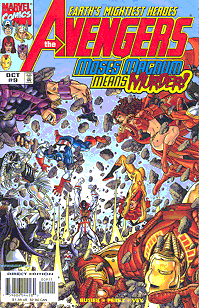 AVENGERS #9
Triathlon helps the Avengers defeat Moses Magnum. Along the way, Triathlon reveals his origin!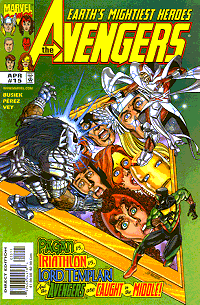 AVENGERS #15
Triathlon's longest appearance to date! In this issue we find out a lot more about Triathlon and the Triune Understanding!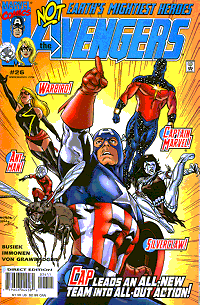 AVENGERS #26
Triathlon makes a very brief appearance, but a telling one as it shows his first doubts about the Triune Understanding's agenda!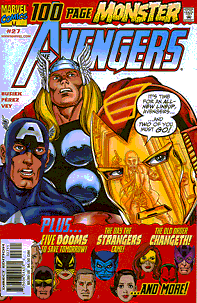 AVENGERS #27
Landmark issue! Triathlon officially becomes an Avenger!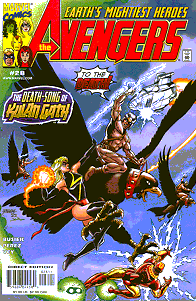 AVENGERS #28
Triathlon's first mission with the Avengers, and he discovers that being one of Earth's Mightiest Heroes isn't all it's cracked up to be...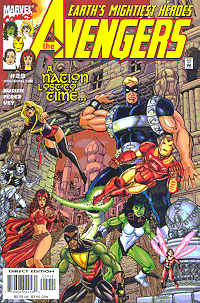 AVENGERS #29
A fellow Avenger finally gets their fill of Triathlon's attitude! Could this be a turning point for our hero? Oh, and there're some demons in this issue, too.
AVENGERS #30
This is the issue Triathlon begins to start acting like part of the team!
NON-MAINSTREAM AVENGERS APPEARANCES
Mike McDermott was cool enough to fill me in on these other appearances of my fav Tri-Guy! Check 'em out!
The Avengers #0 takes place in between Avengers 18 and 19, and includes a brief scene with Triathlon and Jonathan Tremont watching a news report about the Avengers. Tri is angry about the Avengers "accusations" against the Triunes.
Magneto: Dark Seduction miniseries. Issue two just came out, and in the last panel, the Avengers (including Triathlon) arrive in Genosha. Triathlon will probably have a larger guest role in issue #3.
Avengers Forever series, the final issue had EVERY character who ever was/is/will be an Avenger from all timelines! There is one panel in issue #12 where Triathlon can be clearly seen.